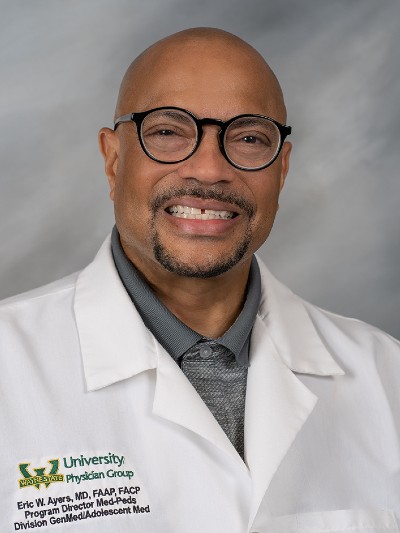 Eric Ayers
Administrative Title
Associate Program Director
Narrative Bio
 Eric W. Ayers, MD currently serves on the academic faculty at The Wayne State University School of Medicine. He holds the rank of Associate Professor with a dual appointment in the Departments of Internal Medicine and Pediatrics. He has been employed at Wayne for over 26 years. He currently serves in the roll as Program Director of the Combined Internal Medicine and Pediatrics Residency Training Program along with being the Director of Mentoring and Student Engagement through the Office of Student Affairs. His service is demonstrated in the fact that he serves on several committees within the Wayne State University and the Wayne State Physician's Group. He has ice the past year lead in the Development and functionality of the WSU Learning Communities using mentoring as the anchor. He has received recognition for his teaching by the School of Medicine and several Medical Student groups such as the Black Medical Association and Gold Humanism Honor Society. He serves as the Faculty representative to a few school based co-curricular activities at the school who have received honors for their community involvement and service. Currently he is overseeing the development of a comprehensive Transitional Care program helping adolescents and young adults with congenital illness be better served medically as the mature into their adulthood in relation to their congenital medical issues. He also played a role in the development of the curriculum of the newly opened LGTBQI Clinic in Coak Town along with providing coverage and teaching at the Adult Wellness Clinic in East Indian Village.
He serves on several Boards locally and nationally. He recently served as a board member for Black Family Development Board for the past eight years were he gave his expertise in pediatrics, adolescents, and young adult health issues addressed by the agency. He also recently finished serving as member of the Gold Humanism Board as the resident and program directors representative. He has served on the Executive Committee on the National Internal Medicine-Pediatrics Program Directors Association, having served as President of the organization for 2006-07. He has served as a Professional Board Member for the Student National Medical Association serving as a coordinator for its National Leadership Institute 2010 and being a member of the Annual Medical Educational Conference National Planning Committee from 2009-2011. Detroit Area Parents in 2009 voted Dr Ayers as Detroit's Top Pediatrician by the Nickelodeon online magazine "Parents Connect." He sits on the advisory boards for the following Detroit area schools; The Detroit Edison Elementary and Middle School, Cody High Medicine and Health Academy and the Ben Carson High School.
The School of Medicine, in June of 2019, honored him as Alumni of the year for 2019. The Department of Internal Medicine honored Dr. Ayers in 2014 with the John O'Connell Award for Diversity for his undying advocacy in this area. The University of Detroit Jesuit High School honored Dr. Ayers as one of their Alumni of the year in 2002. Michigan State University College of Natural Science awarded him the Alumni of the Year Award for 2011. His leadership has been acknowledged by Kappa Alpha Psi Fraternity for his sponsorship of the Detroit Kappa league health awareness program which he has personally and financially backed over the past four years, (2015-2019). He was also honored by Kappa Alpha Psi at the 64th Province meeting for his years of dedicated service and outstanding accomplishments in Health Advocacy. He was featured in the inaugural issue of the School of Medicine Medical Alumni Journal. He has been a key note speaker for the Natiional Medical Association National Convention on Urban Adolescent Health, the Black Medical Association Senior Send-Off Graduation, Kaplan Medical Professional Training Center Detroit Graduation, and 100 Black Men, Men's Health Forum, Cody High's Pinning Ceremony, Gold Humanism Honor Society Banquet, along with several other organizations.
His research interests include hypertension, issues regarding sexuality, adolescent health, men's health, asthma and lung disease, transitional care, and resident life issues. He is published and has served as a reviewer for the National Medical Association Journal and Journal of Clinical Outcomes at Wayne State University.
Dr. Ayers has received multiple accolades from teaching to community service. He has been recognized as an Outstanding Teacher by the School of Medicine. He has received national and local recognition for his commitment to Teaching, Humanism, and Community Service as the recipient of the Pfizer Humanism in Medicine Award in 2004, and the Alfred Tow Award 2006 for Humanism in Medicine sponsored by the Gold Humanism in Medicine Honor Society. He is a member in good standing in both the Alpha Omega Alpha Honor Society and the Gold Humanism in Medicine Honor Society. His compassion for patients has been acknowledged by the Visiting Nurses Association in 2003 as one of their Outstanding Physicians. He has been acknowledged by his peers as an Outstanding Physician by The Best Doctors in America for the past nine years. He was featured as an Outstanding Doctor by Detroit Hour Magazine in 2003. His efforts have been noticed and recognized by the Detroit City Council were he has been a recipient of the Spirit of Detroit Award on multiple occasions to include 2010. He is mentor to elementary, high school and college students in their pursuit of success.
Dr. Ayers attended the University of Detroit Jesuit High School and completed his undergrad education at Michigan State University, majoring in Microbiology. He completed his medical school training at Wayne State University. He completed a three-year fellowship in substance abuse sponsored by the National Institutes of Health and a one-year Faculty Development course at Michigan State.
Dr. Ayers is the proud father of Symone Ayers who currently teaches special education in the Greater Lansing Area and is completing her Masters Degree in Education after receiving her BS degree in Education from Michigan State. He son, Bradley Ayers, is a graduated from Howard University with a BA in Business Finance and currently studying to take the serial sevens exam and lives in Atlanta with his son and Dr. Ayers bundle of joy grandson Greyson Allen Ayers.
Nomination - AAIM Diversity, Equity, and Inclusion Award Nomination: Dr. Eric Ayers, MD October 2020.
Wayne State University School of Medicine Distinguished Alumni Award. February 2019.
Director of Mentoring and Student Engagement Wayne State University School of Medicine. 2018.
Grand Rounds Children's Hospital of Michigan Update on Adolescent Health. September 2019.
Member of the Deans Search Committee for the Executive Vice President and Dean for the School of Medicine. March – December 2019.
Member of the search committee for the Vice Dean/Chair of Education School of Medicine. April - November 2019.
Presentations
Keynote Speaker Men's Health Conference St. Johns CME Church Detroit October 2019.
Keynote Speaker: CME Church Combined Men's and Woman's Fellowship Prayer Breakfast. April 2019.
Keynote Speaker Charles Drew Scholars Graduation Ceremony. MSU April 2019.
Poster Presentations:
Sherman, L. Seymuah, S. Ayers, E. "Implementation of International Certified Training Protocols through Learning Communities: Developing Professionalism and Fostering Leadership Among Mentor and Mentee Medical Students."
Saymuah, S. Anderi, E. Sherman, L. Ayers, E. Komrei, H. "Learning Community Initiatives to Engage Medical Students During COVID-19: A Series of Virtual Conversations."
American Academy of Pediatrics. LUPUS Poster. September 2019.